Sneed Show Horses Have a Successful Trip to Fort Worth, Texas for the 2021 APHA World Championship Show
Tuscan Ridge is far more than just the Mid-south's premier wedding and event destination it is also the home to Sneed Show Horses. Nestled in the quiet rolling hills of Eads, TN you will find a beautiful Italian Villa perfect for weddings and events, but the estate also overlooks 200 acres (about the total floor space of the Pentagon) of lush green pastures, and on the grounds, you will find some of the top APHA and AQHA horses in the country. 
Dr. Darrel and Dr. Kathryn Sneed own and operate Tuscan Ridge. It has always been a dream of Dr. Kathryn Sneed to breed and show registered horses. Dr. Sneed has had a passion for horses since she was a little girl and spent some of her childhood at horse shows in her home state of Ohio. After graduating from college and dental school, she got back to her riding and showing roots. Tuscan Ridge and Sneed Show horses allowed this beautiful and professional woman to realize that her passion could turn into a dream come true.
In the fall of 2020 Dr. Sneed purchased, "Bank on the Best," a double registered APHA and AQHA stallion. "Bank on the Best" is an 8-time World/Reserve World Champion. Affectionately known as "Cash," this amazing stallion is wildly popular, with an outstanding first foal crop. The Cash babies have amazing dispositions and are superb movers like their dad. Did we mention these babies can lope?
In July, Sneed Show Horses competed at the APHA World Championship Show in Texas. Dr. Kathryn Sneed brought home a Top 10 Finish in Amateur Western Pleasure with her mare "Partylikeyoumeanit." Today Dr. Sneed's passion for showing horses has become a family affair. Her adorable, all-star, 9-year-old daughter, Addilyn Sneed, rode "Trulee N Motion" in multiple events with a Top 5 finish and 5 finalist ribbons.  
Another member of Sneed Show Horses is her close friend Amy Sullivan. Amy made her horse show debut earlier this year after a 40-year break from showing horses as a child. Amy competed on her gelding, "Alltimately Awesome" and brought home "Intermediate Amateur W/T Hunter Under Saddle Champion and "APHA Reserve World Champion Amateur W/T Hunter Under Saddle."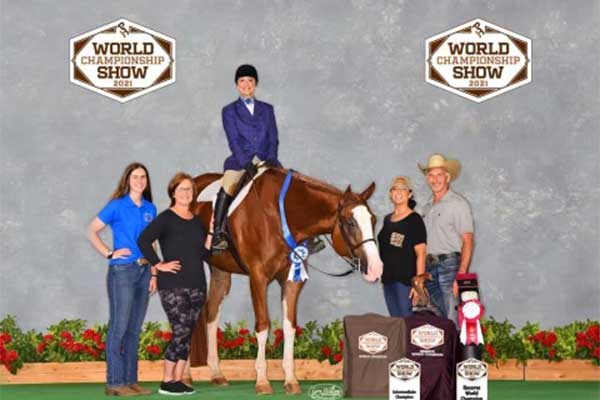 Leading the team at the APHA World Championship Show was trainer, Kevin McDavitt. Kevin has a great dedication and passion for training and coaching each rider. He pushes his riders to work as hard as they can, and his steadfast dedication gets results, as his riders quickly become some of the best in business.
Kevin had an extraordinarily successful world show as well, finishing as Junior Western Pleasure Reserve Intermediate Champion on "Partylikeyoumeanit." "I am incredibly pleased with our team's results at the 2021 APHA World Championship Show. This was the first world show for Kathryn, Amy, and Addilyn. These ladies had no fear and did an amazing job. I could not be prouder of them."
Equine, Experience Tuscan Ridge, Sneed Show Horses, Tuscan Ridge, Tuscan Ridge Eads TN, Tuscan Ridge Equine, Tuscan Ridge weddings