Wedding Venue-Tuscan Ridge
Selecting your dream wedding venue is a very important part of planning your wedding.  It also aids tremendously in setting the mood and ambiance of the occasion.  The Wedding Venue-Tuscan Ridge  is the perfect for celebrations and making memories.   
Just a 15-minute drive from Memphis, Tuscan Ridge is nestled in the rolling hills of Eads, Tennessee.  Once you are off the highway and on the roads to the venue, time feels like it's starting to slow down, and you can't help but start to get excited. The roads leading to Tuscan Ridge are winding, with bright green pastures on every side.  The tall trees curve so that it appears you are driving through a tunnel of trees.  You hear horses neighing and birds chirping as you pull into the gates of the private, secluded grounds.  All of these things work together to create a vision from a fairytale.  Stress instantly melts away as you breathe in the crisp country air.  Blue skies surround you and a sense of romance blossoms.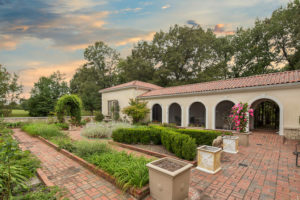 Once on the gorgeous grounds, you'll see the magnificent Italian Villa.  There is a dreamy elegance when you enter the main house.  At Tuscan Ridge, you can choose to have your wedding and reception indoors or outdoors.  
 While the beauty is astounding at Tuscan Ridge, it also fits your venue needs logistically.  According to theknot.com, when choosing your venue, it is important they can handle these 3 logistical concerns: 
Is there plenty of parking? 
Will the drive be convenient for your guests? 
Is there too much distance between the wedding and the reception?  
Tuscan Ridge is only a 15-minute drive to nearby hotels in either Wolfchase, Arlington or Collierville. Tuscan Ridge is also the perfect venue to host both your wedding and receptions so your guests will be able to enjoy both without driving to another location for the reception. Many brides and grooms choose to purchase their first night as Mr. And Mrs. In our Pisa Suite. 
 At Tuscan Ridge, we take great pleasure in helping brides and grooms have the wedding day of their dreams. Call (901) 949-1859 today to schedule a tour. 
affordable wedding venues, Experience Tuscan Ridge, outdoor wedding venues, premier wedding venue near me, small wedding venues near me, Tennessee wedding venue, Tuscan Ridge, Tuscan Ridge weddings, wedding checklist, wedding receptions venues, Wedding Venue, wedding venue Memphis TN, wedding venue near me, Wedding venue TN, wedding venues, wedding venues near me